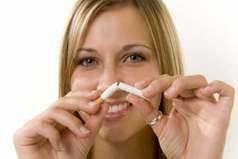 For more than 25 years Eric Lyleson, MA, psychologist has been helping people give up smoking using and integration of CBT, Hypnotherapy and Mindfulness with remarkable results.
Standard treatment for most patients is 2 – 4 fifty-minute sessions. Most people who have difficulty giving up cigarettes are using cigarettes to manage psychological problems such as anxiety, stress and anger. This is also reflected in the reports of why people go back to smoking during stressful or emotional times.
Lyleson's approach addresses these problems as part of an integrative approach, which makes it easier for people to give up smoking and stay a non-smoker for life. Many people can give up after one session, but it is important to have at least one session to deal with the triggers that could cause a person to start up again.
Over 95 percent of patients using this method do so without the use of nicotine patches or Zyban or Champix.
SELF-ASSESSMENT
To know if you are appropriate for this program it can be useful to ask:
· Do you smoke as a way of managing anxiety, anger or stress?
· Do you feel anxious or stressed even at the thought of giving up smoking?
· Have you had difficulty managing anxiety, sadness, stress or anger when you have tried to stop smoking?
Cognitive Behavioural Hypnotherapy (CBH) is an integrated psychological therapy employing clinical hypnosis and
cognitive behavioural therapy
. The use of CBT in conjunction with hypnotherapy may result in greater treatment effectiveness. A meta-analysis of eight different researches revealed "a 70% greater improvement" for patients undergoing an integrated treatment to those using CBT only.
Kirsch, I.; Montgomery, G.; Sapperstein, G.
"Hypnosis as an adjunct to cognitive-behavioral psychotherapy: A meta analysis"
.
Journal of Consulting and Clinical Psychology
63
: 214–220.